Features
1、ND-ZG filtering, cleaning, drying machine is a conicalstructure separation machine and separation and drying machine. Filtration,Cleaning, Drying and Discharging functions are integrated in one machine.
2、It overcomes the weakness of the conventional machineswhich are difficult to clean after use. It can be cleaned from both outer andinner sides while mounted on the machine. Damage due to dismantling can beavoided.
3、Thorough filtration without residua can be achieved.
4、Filtration precision is strictly guaranteed.
5、The solid materials can be removed quickly from the lowerside window without anything left, thanks to the special structure design.
6、Liquid dissolvent can be recycled without anything left.
7、The entire process can be fully automated.
★ Materials forfiltration core and environment
1、SUS316L: can be used in thelower temperature filtration of liquid helium up to high temperature of 480℃.
2、Chromiumalloy: can be used in the lowertemperature filtration of liquid helium up to high temperature of 1400℃.
3、Hastelloy: can beused in the lower temperature filtration of liquid helium up to hightemperature of 1200℃.
4、Nickel Alloy: can beused in the lower temperature filtration of liquid helium up to hightemperature of 800℃.
Product Description
A、Equipment Function
1、Filtration and Separation underpressure or in vacuum circumstances.
2、Drying in vacuum circumstances or byheating.
3、Cleaning repeatedly using the sameor different detergent.
4、Spiral style mixing bringsoutstanding effects.
5、Solid is discharged from the bottomoutlet.
6、 Cleaning can be done without movingout the filtration unit. Filtration unit can be cleaned from both outer andinner sides.
B、Structure and Features
2.1 Composition of the Conical Filtration Machine
Container unit, Conical Filtration unit, Mixer, Driving unit
2.1.1、There are media inlet, meter window,air inlet, mirror and light, etc. on the container.
2.1.2、 There are liquid exit, solid exit, vacuumport, counter blow, counter cleaning port, etc. on the conical filtration unit.The conical filtration unit installed with a multilayer sintered stainlessconical filter can be detached from the container unit. The filter can beeasily dismantled also.
2.1.3、Mixer
2.1.3.1 Propeller blades are mounted at the end of the shaft to do mixing,turning and discharging of the product during cleaning and drying processes.The mixer can rotate in both directions.
2.1.3.2、Distance between propeller bladesand the bottom of the filter: Smin=10mm 
2.1.3.3、Distance between propeller blades tothe wall of the filter: Smin=20mm
3.3 Driving Unit
2.3.1、The speed of the mixer can beadjusted through inverter (installed by user), motor and reducer, which canrotate in both directions.
2.4 Sealing
2.4.1 Dry-type mechanical seals are used between the shaft and thecontainer to ensure no leak.
2.5 Discharging Outlet
There is a discharging outlet, operatedthrough a valve or automatically, at the bottom of the conical filtration unit.There is an outlet for raffinate and a special filter for filter corner torealize complete filtering.
2.6 Filter
2.6.1Sintered stainless sheets produced by Nichidai Corp., Japan are used for thefilter in the filtration unit. The material is SUS316L. The filter precision isdetermined according to specific requirements. A test can be done to specifythe precision requirement.
C、Technical data
The model not listed can be discussed accordingto actual application.

Structure of the Special Multi-layered Sintered Filter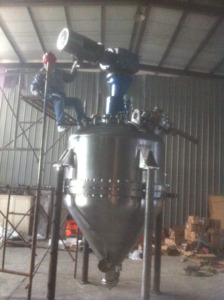 Our filter products arereliable and quality guaranteed. It is the best option to the filteringindustry. We provide the systematic service from technology, design,manufacture to after market and maintenance in the way of high efficiency, environmentfriendly, safety, energy saving, low cost. Customer satisfaction is ourultimate goal. Your inquiry is always welcomed.